Thousand shades of happiness


FINDING HAPPINESS. IN SMALL THINGS. HOW TO MAKE A PHOTOSHOOT IN A COLOURED PINWHEELS BUSINESS.
Somedays ago I met Giovanna and Danilo for a photo shoot before their wedding. It was a very peculiar shoot, a bit different from the usual pre-weeding shoots with the future husband and wife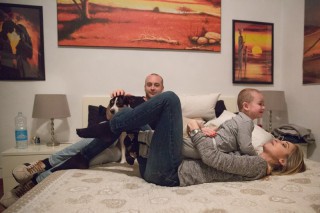 A unique shoot that cannot be framed into a single category: a pre-wedding shoot of course, but mostly a family shoot, with a "four-legged friend" (Achille, the irresistible and perky little dog that ended up being at the centre of the attention, and a truly protagonist of my shoots), but also that type of shoot that I had never done before, and that I would call "my job is my passion".
Actually, these photos tell some about the real, daily life of a couple: moments of family life, affections, and work that, in this case, is a great passion for both of them.
I spent the afternoon in company of this splendid family: two young parents with an amazing kid, Christian, and a nice, smart and obedient dog that could start talking at any time. Time literally flew away, as it happens when you feel fine or you're doing something nice.
I soon realized that Danilo and Giovanna were completely at ease while I was taking the pictures. So, during the shooting we continued talking nicely, getting to know better each other. In the end, pictures were no longer the priority of that meeting, they became almost a secondary scope.
A nice chat before a cup of hot coffee and some exquisite canestrelli (local biscuits) -that soon captured Achille's attention- speaking of the wedding and of their job, and then some photos in the intimacy of their home: playing and jumping on the big bed, as usually, and again playing with the palettes and the brushes of Giovanna's make up set, something little Christian couldn't resist.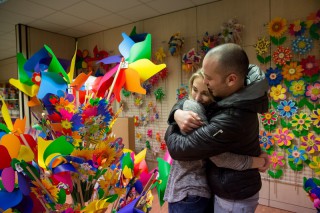 Giovanna and Danilo talked a lot about their job and about the family business, the Giobas, created in 1953, and now run by the family's fourth generation. What is so special about this company?
I need to tell you: Everything.
It is magic, fantasy, glee, creativity, dream; it is devotion, passion, unity, and also sacrifice.
A pinwheel factory, known around the world, that in its history has made more than 200 varieties of pinwheels; a "poor" toy that for generations has made children smiling and having fun. I cannot tell you right here, right now the whole story of this family and their business, but I invite you to read it on their website: https://www.girandolegiobas.it/it/azienda.html
I will tell you about the sense of wonder and marvel that I felt when I walked into their showroom: an explosion of colors that leaves you breathless even if you are a grown-up guy. So many pinwheels, of all dimensions and patterns. A lively and stimulating environment. Pinwheels, very beautiful ones, but also safe and executed in a workmanlike manner, a pride of the MADE IN ITALY, a unique craftsmanship that has always distinguished our Country and of which we, as Italians, are proud of.
I was impressed by the company, its history -that is the history of Giovanna's family- but I was also impressed by the enthusiasm and the passion of these young people. They are in love with their work and with the company, proud and willing to tell its story, to be part of it and to be part of its future. My mind and heart go back in time to Mario Basso's visionary dream. The person that started all this, soon after the World War II, where we really had nothing left, if not the dream and the willingness to start from scratch. He was great, because he wanted a fresh start, and he thought of the kids, the children of war, fear, hunger, and bombs. He wanted color to back in our children's life, along with smile and hope, so he realized a toy, starting with the very little that he had at disposal at that time, a toy that still today makes children have fun and smile.
I enjoyed following little Christian while he ran through the showroom, amidst all those colored pinwheels, with that marvelous smile painted on his face. It is really true that children need just a little to have fun. I put it this way... a life full of colors and cheerfulness, and at Giobas that is guaranteed. A real paradise.
A pinwheel...the same simple, poor toy that children soon after the war used to amuse themselves, that today is still able to amuse and make them smile.